Trouble on the Court: NBA Plagued by Sports Injuries This Season
Posted by Jenn F. on Wednesday, February 19th, 2014
This year's NBA headlines have not been about Blake Griffin's amazing dunks or the tight defense played by LeBron James. The news outlets are buzzing about the countless injuries plaguing the league this year. There are 65 players currently injured; that's 16 percent of the league.
"There is no statistical evidence that this season is more injury-riddled than any other," says The Bleacher Report, but what makes this season unique is how many star athletes are on the injured list and the impact that these injuries have had on the teams in general. And it begs the question: how many of these injuries might have been prevented?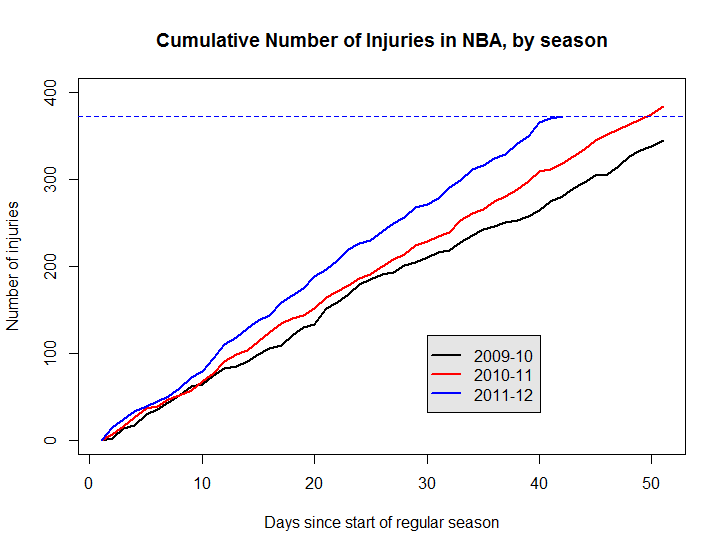 Injured Guards Cost Teams $22 Million
The Utah Statesman reports that nine starting point guards have missed games with injuries this year, including:
– Rajon Rondo, Boston Celtics – ACL injury
– Deron Williams, New Jersey Nets – Ankle injury
– Kyrie Irving, Cleveland Cavaliers – Knee injury
– Chris Paul, LA Clippers – Shoulder injury
– Mario Chalmers, Miami Heat – Achilles tendon injury
– Russell Westbrook, OKC – Knee injury
– Marc Gasol, Memphis Grizzlies – Knee injury
– Derrick Rose, Chicago Bulls – Knee injury
– Eric Bledsoe, Phoenix Suns – Torn meniscus knee injury
– Jrue Holiday, New Orleans Pelicans – Broken leg
"The absence of these versatile guards leaves the respective offenses one-dimensional," The Statesman observes. They add that of the Nets, Cavaliers, and Celtics, "Not one of those teams is above .500 this season." Even the Chicago Bulls — rumored to be an early favorite for the playoffs — are still a game below .500. The overall impact of the games missed by starting point guards alone cost teams $22 million.
Teams Decimated By Injuries
ESPN commentators wonder who will be left for the All-Star Game this month without Kobe Bryant, Russell Westbrook, Chris Paul, and Derrick Rose.
Furthermore, "The Eastern Conference has been utterly ruined," remarks The Bleacher Report. Only the Indiana Pacers (38-10) and Miami Heat (35-13) hold finals-worthy records. The LA Lakers are languishing without Kobe Bryant, Steve Nash, Pau Gasol, Jordan Hill, and Jodie Meeks — now suffering a 17-32 record.
Even teams that have been doing well all season can't help but feel the pain when a big star goes down. For instance, the Golden State Warriors have an overall record of 30-20, but dropped to a 5-7 record while Andre Iguodala sat on the bench with a hamstring injury.
Similarly, Oklahoma City Thunder started the season with a record of 24-6, but barely squeaked out four wins in the seven games Russell Westbrook has been gone. "With Russell Westbrook, they have a title contender," says Matt Moore, senior writer for CBS Sports. "Without Russell Westbrook, they have the 2006 Cavaliers."
The Houston Rockets have been held afloat by Chandler Parsons and Terrance Jones, but have a .750 record without James Harden.
As Miami Heat's Shane Battier told The Bleacher Report, "Injuries are a great mystery of our game. I think it's sobering for us. We're an ankle turn away from joining those teams and then having to scramble. So this is a humbling game."
Many NBA Sports Injuries Are Preventable
Here at The Center for Podiatric Care and Sports Medicine in NYC, we wholeheartedly agree with the New Orleans Times-Picayune when they say that a few simple changes can prevent unnecessary injuries. Managing injuries falls in the hands of the athletic trainers, physical therapists, conditioning specialists, and dietitians who travel with the teams.
These pros can begin by assessing the weight loss and weight gain of the players, which can put increased stress on the joints. Their resting energy expenditure and stamina levels can be assessed with a DXA Scan and Max Vo2 Test. A computerized pedometer worn during practice and pre-game shoots can track player movement patterns to see if players are expending too much energy or fueling up on the wrong foods.
New York athletes who are looking to treat, heal, or prevent injuries this season are invited to stop by our NYC sports medicine clinic to meet with top-level trainers who can guide players to peak performance levels.
If you have any foot problems or pain, contact The Center for Podiatric Care and Sports Medicine. Dr. Josef J. Geldwert, Dr. Katherine Lai, Dr. Ryan Minara and Dr. Mariola Rivera have helped thousands of people get back on their feet. Unfortunately, we cannot give diagnoses or treatment advice online. Please make an appointment to see us if you live in the NY metropolitan area or seek out a podiatrist in your area.