Threat to Teens? Study Says Lack Of Sleep Causes Sports Injuries
Posted by Jenn F. on Monday, October 21st, 2013
Each year, over 3.5 million children require emergency room treatment from sports injuries. In fact, sports injuries are the second leading cause of injury to teenagers. As new studies come out, we are beginning to see why America's youth are at such high risk.
Adolescent athletes who sleep eight or more hours a night are 68% less likely to be injured than athletes who sleep less, says a 2012 study presented at the American Academy of Pediatrics National Conference.
The Study
For this study, researchers from Children's Hospital Los Angeles looked at 112 students, grades 7-12, enrolled at the Harvard-Westlake School in Studio City, California. They looked at multiple variables, such as:
– The number of sports played at once
– The duration of time allocated to athletics
– The use of private coaching
– Strength training participation
– Amount of sleep
– Enjoyment with their overall sports experience
Scientists were surprised to find that, of all these variables, it seemed the amount of sleep had the most direct correlation with sports injury incidence. They also found that the higher the grade level, the greater the likelihood of injury. Each grade level increase saw 2.3 times greater sports injuries. Gender, amount of time spent in sports, number of sports played, coaching tutors, and strength training were not statistically significant.
"While other studies have shown that lack of sleep can affect cognitive skills and fine motor skills, nobody has really looked at this subject in terms of the adolescent athletic population," said lead author Matthew Milewski, MD. "When we started this study, we thought the amount of sports played, year-round play, and increased specialization in sports would be much more important for injury risk," he added.
Why Does Lack Of Sleep Hurt Teen Athletes?
According to an article published in Coastal Point news, there are many reasons why lack of sleep leads to more injuries:
– Lack of sleep directly impacts learning and fine motor skills.
– Not sleeping makes it more difficult to pay attention, concentrate and process information.
– Slower reaction times mean it's harder to get out of the way of a defender.
– The cardiovascular function reduces with lack of sleep.
– Soft tissues like muscles do not have a chance to heal properly without adequate sleep.
– Lack of sleep increases the amount of hormones in the body, which extends recovery time.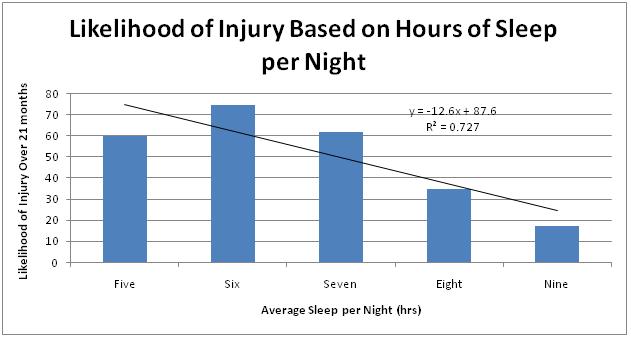 The Center For Podiatric Care & Sports Medicine Advises…
Most teenagers need about nine hours of sleep a night, says the Mayo Clinic. Anything less sets athletes up for poor performance. We see a lot of teenage sports injuries, including concussions, tendonitis, shin splints, ankle sprains, and bone fractures. Falls, collisions, being struck by objects on the field or court, and overexertion are commonly involved in these injuries.
If you live in the NYC area, do not hesitate to call our office to schedule an appointment with a sports medicine professional. Not only do we treat fresh injuries, but we also have physical therapists on staff who put injury prevention as their primary goal.
If you have any foot problems or pain, contact The Center for Podiatric Care and Sports Medicine. Dr. Josef J. Geldwert, Dr. Katherine Lai, Dr. Ryan Minara and Dr. Mariola Rivera have helped thousands of people get back on their feet. Unfortunately, we cannot give diagnoses or treatment advice online. Please make an appointment to see us if you live in the NY metropolitan area or seek out a podiatrist in your area.