NHL News: Nashville Predator's Mike Fisher Loses 4-6 Months with Achilles Tendon Injury
Posted by Jenn F. on Wednesday, July 9th, 2014
This week, we're covering Achilles tendon injuries quite extensively. Injuries to the tissue connecting the heel to the calf muscle are quite commonly treated at The Center For Podiatric Care & Sports Medicine. You could say it is one of our specialties, along with bunion surgery and plantar fasciitis.
Today we came across the story of Mike Fisher, center for the Nashville Predators ice hockey team and husband to country music star Carrie Underwood. CBS News reports that he will be out four to six months with a ruptured Achilles tendon. His tale really underscores the severity of an injury to this part of the body and a lengthy recovery process that no one wants to face.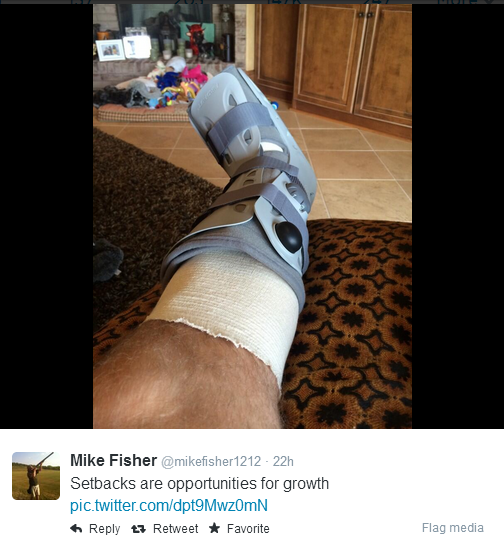 What Happened to Mike Fisher?
Last season, the 34-year-old alternate captain was the #4 team scorer, with 20 goals and 29 assists spanning 75 games. Over the course of his career, he's amassed 226 goals and 255 assists in 887 regular season games. This year, he has fallen to an Achilles tendon injury sustained during training camp. General manager David Poile issued a statement saying Mike Fisher underwent successful surgery on Thursday, July 3, and that they expect him to "make a full recovery in four-to-six months."
How Do Achilles Tendons Rupture?
Achilles tendon ruptures affect one in 5,000 people. The tendon tears in response to high force, stress, or pressure. We tend to see the injury happen when people are forcefully pushing off with their feet in basketball, sprinting events, or tennis matches. The calf muscle contracts too much, placing a burden on the Achilles tendon. We've also seen people damage their tendons falling or suffering a puncture wound in the back of the tendon.
Other factors that weaken the Achilles tendon include:
– Long-term use of prednisolone corticosteroid medication
– Cushing's syndrome
– Chronic inflammation (tendonitis)
– Age of 60+
– Medical conditions like rheumatoid arthritis, lupus, or gout
– Use of quinolone antibiotics (ciprofloxacin, ofloxacin)
– Sudden increases in training or hill running
– Running with overly stiff soles or excessive shoe cushioning
– Ignoring and running through pain
We also find many of our patients have excessive tightness in their calf muscles and hamstrings, which places a larger burden on the Achilles tendons. This condition is just a simple matter of biomechanics — how we are built, how we move, how we respond to stress. Of course, some of the issue can be resolved with proper physical therapy and targeted strength training, which we can help you with here at The Center For Podiatric Care & Sports Medicine.
Surgical Treatment of Ruptured Tendons
Inflamed tendons may be iced and treated with anti-inflammatory medication, but an actual tearing of the tendon is usually treated surgically. The podiatric surgeon makes a small incision on the back part of the leg and sutures the two ends of the ruptured tendon back together again. While it sounds like an easy enough procedure, the recovery is slow. You can expect:
– Six to eight weeks of total immobilization in a cast, brace, or walking boot (depending on the severity)
– Several months of rehabilitation to strengthen the tendon's support structures and improve range-of-motion
– It could take up to a year to return to full activity in some cases
Active patients, in particular, generally opt for surgery because non-surgical tendon repair is associated with a high risk of re-rupture. By contrast, surgery is said to reduce the risk of a future rupture by 8.8%.
Why Do Achilles Tendons Heal so Slowly?
Our NYC podiatrists and sports medicine doctors are often asked why it takes so long for the Achilles tendon to repair, even after surgery. In a nutshell, wound healing is all about cell production, oxygen supply, and blood vessel systems. Unlike the skin — which has a vast network of superficial blood vessels to transport oxygen quickly and efficiently — the ligaments and tendons simply do not receive as much blood and oxygen.
We've found ways to sidestep this problem, though. Much is being done with platelet-rich plasma injections these days. We offer this type of innovative treatment at The Center For Podiatric Care & Sports Medicine to help you get back on your feet sooner rather than later. We're guessing Mike Fisher is receiving expert care as well, since the estimates for his return are relatively optimistic for an Achilles tendon injury. If you need Achilles tendon repair in the New York City region, you may book your appointment online.
If you have any foot problems or pain, contact The Center for Podiatric Care and Sports Medicine. Dr. Josef J. Geldwert, Dr. Katherine Lai, Dr. Ryan Minara and Dr. Mariola Rivera have helped thousands of people get back on their feet. Unfortunately, we cannot give diagnoses or treatment advice online. Please make an appointment to see us if you live in the NY metropolitan area or seek out a podiatrist in your area.