Tips for Buying Ski Boots: How To Prevent Winter Foot Pain
Posted by Jenn F. on Friday, November 15th, 2013
Trade group SnowSports Industries America says that 6.9% of the U.S. population skis or snowboards. This statistics equates to about 10.2 million skiers out on the slopes each winter. No doubt skiing is a fun hobby and a great way to get exercise during the blustery months of the year. Yet, are you finding that your feet get the winter blues? The Center for Podiatric Care and Sports Medicine offers an explanation and tips for maintaining optimal comfort and preventing winter foot pain associated with skiing.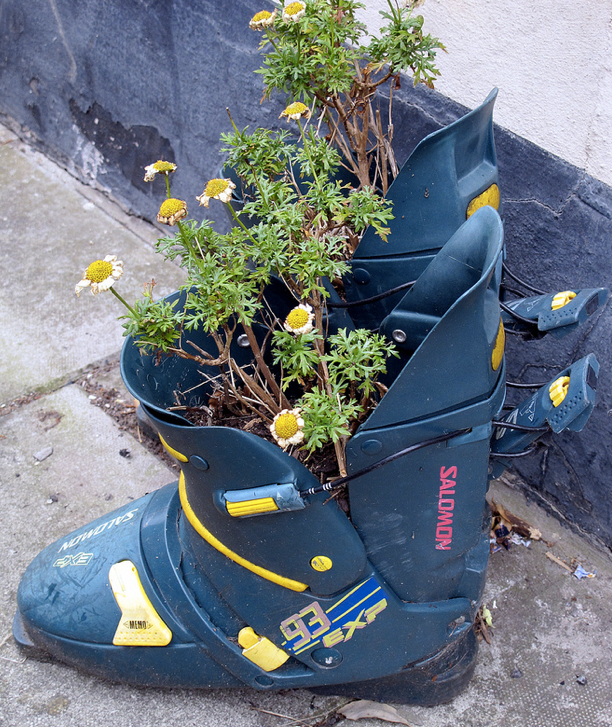 Are Ski Boots The Culprit Behind Your Foot Pain?
Skiers often complain of pain in the metatarsal region of the forefoot / ball of the foot. They may report numbness and burning or general aches and pains after a fun day out on the slopes. Generally speaking, we use these parts of the foot for mobility while skiing. When you are walking, your foot absorbs shock from heel to toe for a more even weight distribution. However, when skiing, much emphasis is placed on the nerves, muscles, and blood vessels of the forefoot. Prolonged compression yields discomfort and foot injury.
Why Do Ski Boots Make My Feet Hurt So Badly?
Aside from obvious overuse injuries associated with skiing, foot pain can largely be attributed to poor choice of ski boots. Tight-fitting boots, inflexibility, and uneven pressure distribution are the most common causes of painful ski boots we come across at The Center for Podiatric Care and Sports Medicine.
Tight ski boots – Burning or aching across the entire foot and numbness are the most common symptoms faced by tight boot wearers. The pain spreads horizontally across the foot and down to the toes. According to Wired Magazine, "buying the right ski boots should suck" — because it should involve more customer service than a sales associate simply grabbing your size from the back room. While shopping, look for boots with more supportive foot beds to prevent arch collapse. Wear a lower volume sock to give yourself more room. To correct existing boots, ask a cobbler to stretch and grind the plastic in problem areas to make a better fit.
Inflexibility – The rigid shell of most ski boots doesn't allow for the foot to roll inwards to absorb shock or outwards to propel us forward. Skiers with this type of foot pain feel tightness and aching along the outside of the foot at first. Over time, pain and numbness may become more widespread. Custom insoles can greatly improve the biomechanics of a ski boot for more stable, neutral foot posturing.
Pressure Distribution – Poor pressure distribution causes burning beneath the ball of the foot, as well as bruising and soreness. A better arch, ankle flexion and stronger calf muscles can improve the situation for these skiers. Boot shells may also be modified for better comfort.
How To Buy Ski Boots To Prevent Winter Foot Pain
"Padding and orthotics in ski boots can go a long way in preventing and helping foot pain," says Dr. Nadia Levy. You can look for ski boots that advertise orthotic liners or extra padding. Visit your local NYC podiatrist to ask about custom-molded foot beds and orthotics, as these tailored products can correct any weight distribution imbalances or unique nuances your feet may possess.
"Also, a proper fit is important," Dr. Levy adds. "Ski boots are not something I would ever purchase online unless you have had that exact boot model in the past. Sizes and brands vary to the extent that nothing can replace an in-person fitting." Many people buy boots that are two or three sizes too big, according to ski shop pros from Whistler. Be sure you buy from a ski shop that specializes in custom fitting.
If you have any foot problems or pain, contact The Center for Podiatric Care and Sports Medicine. Dr. Josef J. Geldwert, Dr. Katherine Lai, Dr. Ryan Minara and Dr. Mariola Rivera have helped thousands of people get back on their feet. Unfortunately, we cannot give diagnoses or treatment advice online. Please make an appointment to see us if you live in the NY metropolitan area or seek out a podiatrist in your area.