Basketball Sneakers For Flat Feet
Posted by Jenn F. on Friday, May 22nd, 2015
"About 30 percent of people have a flat foot," says Dr. Josef J. Geldwert of The Center for Podiatric Care and Sports Medicine in NYC. "This surprisingly common condition may cause pain, cramping or spasms, especially after prolonged standing or physical activity. The pain can be limiting — causing people to walk slower or stop running. Over the long term, the increased stress placed on other joints can lead to ankle arthritis, knee problems or stress fractures." Basketball players are among some of the most common patients Dr. Geldwert treats for flat foot.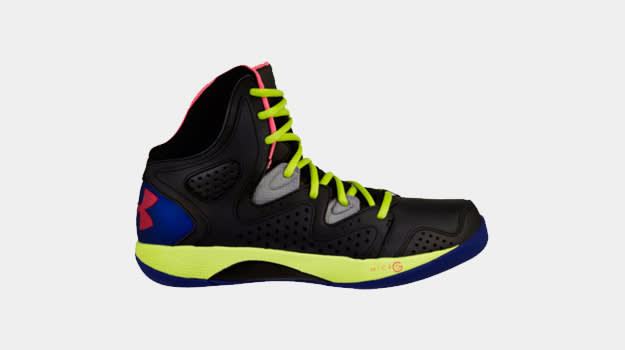 Does Playing Basketball Cause Flat Feet & Fallen Arches?
The sport itself does not cause flat foot to develop necessarily, but basketball players often sustain injuries like stretched or torn tendons, especially inflammation or damage to the posterior tibial tendon, which can cause the arch to flatten. Torn or ruptured Achilles tendons may also cause flat foot. Dislocated or broken bones are common underlying factors as well.
More often than not, though, flat feet are present naturally at birth. In fact, most people with flat feet do not suffer any adverse symptoms at all. However, for a highly active, competitive basketball player, all the running and jumping can take a toll. "You often hear about the fifth metatarsal fracture — like Kevin Durant and Brook Lopez had last year," says Dr. Geldwert, "and that's often symptomatic of a person with flat foot or someone lacking proper arch support."
(Note: Rheumatoid arthritis or weight gain also causes flat foot to develop later in life, although that is obviously not the case among our basketball stars.)
How Are Flat Feet Treated?
When pain becomes an issue, our NYC podiatrists will perform a diagnostic exam and usually recommend a change in footwear or the use of custom orthotics. "Arch support is key in the normal functioning of the foot," says Dr. Geldwert. Here at our Manhattan and Westchester sports medicine centers, we use the latest 3-D computer technology to fashion a pair of shoe insoles that is custom-formed to the shape of your individual feet.
"We also assess biomechanical issues at our Gait Analysis Center, looking for stride problems that are contributing to pain spasms. From there, we can recommend exercises or treatments to correct any anomalies in the way you move." We look at the way the ankle flexes, the heel rises and the foot pronates. By watching how you stand, walk, run and jump, we can assess which parts of the foot and ankle are weak or injured, which will guide you through a recovery plan that attacks the root cause of your foot pain and malfunction.
"In very rare cases where the foot is rigid and symptomatic, there are flat foot surgeries like the calcaneal osteotomy, subtalar blocking, and gastroc release," Dr. Geldwert adds. "This type of surgery typically involves a few weeks of bed rest and a soft cast, followed by a few months in a boot to offload pressure, followed by  two months of physical therapy. In four months time, most patients are pretty well back on their feet."
Basketball Shoes For Flat Feet
Here are a few of the basketball shoes with superb arch support recommended by our NYC podiatrists:
Under Armour Micro G Torch 2   and Under Armour Micro G Anatomix Spawn
Nike Kobe 8 SYSTEM and Nike Zoom Kobe Venomenon 4 and Nike KD VII
adidas D Rose 4.5 and adidas D Rose Englewood II
Air Jordan XX9 and Jordan CP3.VII
Like Michael Jordan once said, "The right shoe, on the right player, can change his life, the game, and the world." So visit the specialists at The Center for Podiatric Care and Sports Medicine in New York City to assess your feet and find the best footwear and insoles for your unique feet!
If you have any foot problems or pain, contact The Center for Podiatric Care and Sports Medicine. Dr. Josef J. Geldwert, Dr. Katherine Lai, Dr. Ryan Minara and Dr. Mariola Rivera have helped thousands of people get back on their feet. Unfortunately, we cannot give diagnoses or treatment advice online. Please make an appointment to see us if you live in the NY metropolitan area or seek out a podiatrist in your area.