Looking for Comfort and Style? Choose the Right Winter Boots for Wider Calves and Feet
Posted by Jenn F. on Friday, December 20th, 2013
This time of year, we're all bundled up in boots. Sometimes these boots are practical — designed to prevent our feet from getting wet or loaded with extra traction to stop a spill on the ice. Other times, the boots are for fashion's sake.That's where our patients tend to run into trouble. They may buy leather boots that are too restrictive and cut off circulation around the calves or boots that are extremely difficult to get on and off. For women with a little extra thickness in the legs, buying winter boots can be a nightmare. The AARP recently published a great article about slimming boot choices that proved you don't have to sacrifice style when you're seeking fit and comfort.
AARP Recommendations: Choosing The Best Boots For Bigger Legs
– Do you have thick calves and slim ankles? The most important factor is that you don't compress your calves too much to restrict blood flow and make it nearly impossible to squeeze in and out of your footwear. A classic knee-high riding boot with zippers — like the Anne Klein Joetta Wide Calf Riding Boot — is always a good choice. Another option is a stretch boot made of soft microfiber or suede with a wedge heel like the Rockport TM60MMW Stretch Wedge Boots.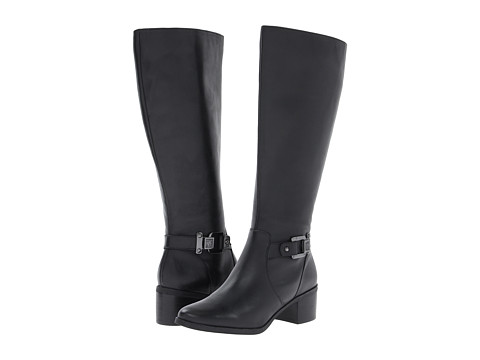 – Do you have heavy calves and ankles? Scrunchy boots like the Naturalizer Lamont Scrunch Suede Boots will mask the straightness of your leg where it flows into the ankle. Ruched waterproof boots like the Blondo Valeska also make a flattering choice if you're looking to hide extra pounds.
– Are your ankles swollen and feet wide? As time goes on, we may find we need boots that accommodate flatter feet, bunions and hammer toes. Uggs are a popular choice, but aren't always work appropriate. So the AARP recommends soft suede Born Abrielle-Crown Collection boots or padded booties like the Softwalk Darla.
– Are your legs short and chunky? Add height and proportion with knee-high wedge boots with comfortable elastic panels. The Blondo Lizenn Waterproof Wedge Boots and Rockport Total Motion Wedge Boots work.
Winter Boot Buying Pitfalls
– Look for stabilizing features. The more weight you are carrying, the more stress you put on your feet. Therefore, it's imperative that you find boots that will reduce pressure. No one likes blisters or ulcers, after all! You want to read each description to find boots that offer arch support and firm heel cups. Keen's Hoodoo II Boots recently caught  our eye. These durable, waterproof winter boots were recently featured on "Good Morning America" for their added toe protection, warmth, dryness, and stability.
– Skip gimmicks. Not all "wide calf" and "wide foot" styles are appropriate. Sometimes patients come in, believing they need a wider shoe size, when in reality they just need a boot style in a regular size that features a roomier toe box.
– Stay dry. When our feet sweat or become wet in the winter, our socks scrunch and we are more likely to suffer from winter foot blues. Check out Jessica London boots to stay dry (but not overheated) this winter. Also, be sure you have at least two pairs of boots that you can alternate between this winter, so you never have wet feet!
 Consider Orthotics For Comfort
Come visit your friendly NY podiatrist's office for a pair of orthotics. Anyone suffering from foot pain can benefit from custom insoles that can go in any winter boot you buy. This time of year, your feet deserve a little extra TLC. While they may cost $500 a pair, they will last you many years and your insurance will likely cover the majority of the expense. Having comfortable feet is always in fashion, no matter the season!
If you have any foot problems or pain, contact The Center for Podiatric Care and Sports Medicine. Dr. Josef J. Geldwert, Dr. Katherine Lai, Dr. Ryan Minara and Dr. Mariola Rivera have helped thousands of people get back on their feet. Unfortunately, we cannot give diagnoses or treatment advice online. Please make an appointment to see us if you live in the NY metropolitan area or seek out a podiatrist in your area.