Morton's Neuroma Surgery Alternatives; NYC Podiatrist Discuss Options
Posted by Jenn F. on Friday, October 12th, 2018
For Morton's Neuroma sufferers, the pain feels like "a knife twisting in the ball of the foot." This compression and aggravation of the nerve rarely goes away on its own without seeking some sort of care. Most patients wouldn't think twice about having surgery if it promised to stop the agony. From a podiatrist's standpoint, though, there are risks involved with major surgery. Modern procedures have high success rates and the potential for patients to be completely pain-free after recovery. However, there is still a chance that nerve damage could result, causing tingling or permanent numbness in portions of the foot. Sometimes the original pain resurfaces years later. Surgery carries the risk of infection or delayed wound healing, so it's prudent to explore Morton's Neuroma surgery alternatives first.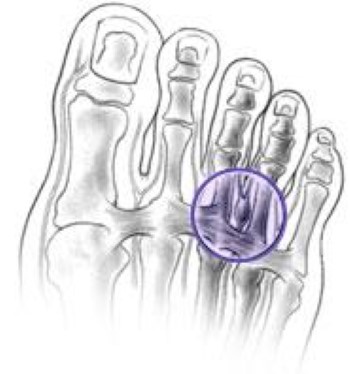 Morton's Neuroma Surgery Alternatives
The first steps we recommend for Morton's Neuroma sufferers include:
A change in footwear
Add padding to the shoes
Get a daily foot massage
Ice the affected area to reduce swelling
Take oral anti-inflammatory medication like ibuprofen
Receive injections of cortisone or steroids
Limit high-impact activities such as running, aerobics, dance, and tennis
Try a pair of custom orthotics designed to correct biomechanical issues
Studies are fairly limited on the effectiveness of different treatment protocols for Morton's Neuroma, although a 2011 study found improvements in 41% of people who changed their footwear alone and 47% of people who received injection therapy. Further, 96% of those treated surgically saw improvement in their condition.
Who Is a Candidate for Morton's Neuroma Surgery?
Morton's neuroma surgery involves cutting out the troublesome section of the nerve. Immediate recovery takes three to four weeks, but it can take up to four months to become fully mobile following the procedure. Approximately 80 percent of Morton's Neuroma patients are treated non-operatively, but a good candidate for surgery is someone who has failed the aforementioned therapies. We don't want you to suffer for years, but we usually try two or three treatments with you before we consider surgery.
Who Is NOT a Candidate for Morton's Neuroma Surgery
Additionally, there are some patients who are not well-suited for foot surgery. Patients with vascular insufficiency or active soft tissue infections in the foot cannot have surgery. We may think twice before operating on a diabetic with uncontrolled blood sugar levels, a past history of non-healing ulcers, or other comorbidities due to the risk of infection.
Neurolysis Gives Hope When Surgery Fails
What if you've had surgery already, to no avail? Overall, non-responsive Morton's Neuroma patients represent just 2% of a practice's neuroma patients. Alcohol injections to desensitize the nerves can provide an alternate approach to revision surgery in these cases. For first-timers, we might use a 4% concentration, but we can go as high as 10-20% with patients who have tried other therapies unsuccessfully. Up to half of neurolysis patients may endure another flare-up that can last for days or weeks, but ultimately, most of these patients see good results long-term and do not require a second surgery. Ninety-nine percent of the patients who respond well to the alcohol injections will never need another one.
Seek Morton's Neuroma Surgery Alternatives in NYC
The Center for Podiatric Care and Sports Medicine specializes in complex conditions of the foot and ankle, including Morton's Neuroma. We offer the latest cutting-edge technologies and advanced treatments for neuromas, with board-certified podiatric surgeons on staff to help as needed. Our goal is to manage your pain as fast as possible, but also to get at the root cause of your suffering, rather than just mask the symptoms. Contact us to schedule an appointment at one of our offices in Manhattan or White Plains.
If you have any foot problems or pain, contact The Center for Podiatric Care and Sports Medicine. Dr. Josef J. Geldwert, Dr. Katherine Lai, Dr. Ryan Minara and Dr. Mariola Rivera have helped thousands of people get back on their feet. Unfortunately, we cannot give diagnoses or treatment advice online. Please make an appointment to see us if you live in the NY metropolitan area or seek out a podiatrist in your area.