Laser Pain Management Therapy: The Differences Between Low Level and High-Powered Lasers
Posted by Jenn F. on Monday, May 19th, 2014
Insurance companies have been slow to reimburse patients for low and high powered laser pain management therapy, due to the sluggish pace of large bodies of published research; but doctors across the country are reporting fantastic results in their own clinical practices. Here at The Center for Podiatric Care and Sports Medicine in NYC, we treat chronic conditions like toenail fungus, arthritis, Achilles tendinopathy, and plantar fasciitis with different types of lasers. Let's explore the differences between the two types of lasers and examine the buzz surrounding these therapies.
What Is Low Level Laser Therapy?
Nicknames: LLLT, Cold Lasers, Non-Thermal Lasers, Photobiomodulation, Class III Lasers
How it works: A single 600 to 1,000 nm, 5 to 500 milliwatt wavelength of red-beam or near-infrared laser light is used to penetrate deep into the tissues to stimulate cellular repair, immune system function, lymphatic system activity, and vascular healing processes.
What it's used for: In other areas of the body, LLLT is used for carpal tunnel syndrome, temporomandibular joint dysfunction, and low back pain. At our New York podiatrist clinic, we use it for the treatment of Achilles tendinopathy and osteoarthritis of the foot.
What research says: Studies testing over 220 people with rheumatoid arthritis found that low-level laser therapy, given 2-3 times a week for four weeks, resulted in decreased pain and morning stiffness, as well as increased flexibility.
What people are saying about it: According to an NBC News affiliate, the treatment can "speed up healing," treat chronic conditions "without surgery, injections, or pain," and offer an "absolutely fantastic" new area of medical therapy.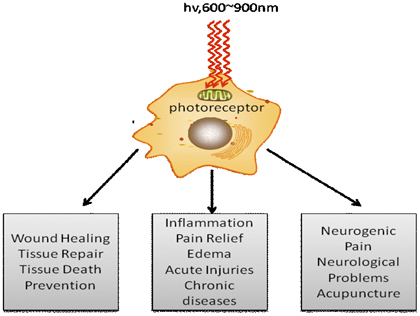 What Is High Power Laser Therapy?
Nicknames: HPLT, Class IV (Therapeutic) Laser Therapy
How it works: These lasers output 500 to 7,500 milliwatt laser light designed for deeper penetration, over a larger surface area, in a shorter amount of time. While LLLT does not heat up the tissues, HPLT is able to provide slight topical heating for pain relief.
What it's used for: In other applications, HPLT can treat headaches, low back pain, muscle spasms, tennis elbow, and carpal tunnel syndrome. In sports podiatry, we use it for plantar fasciitis, rheumatoid arthritis treatment, and toenail fungus eradication.
What research says: One case study of a 38-year-old woman with chronic plantar fasciitis in her right foot found that six sessions of high-power laser therapy "produced significant reduction in Achilles tenderness and pain intensity along the foot fascia." After the full course of treatment, the patient reported a 90% pain reduction, with 10% residual.
What people are saying about it: ABC News cites a doctor of sports medicine who uses high-powered lasers to treat professional athletes for "a wide range of injuries and inflammatory conditions." According to the doctor, the laser stimulates cellular activity, accelerates oxidation, and produces more energy for healing.
Laser Pain Therapy in New York
Patients gravitate to The Center for Podiatric Care and Sports Medicine because our experienced podiatrists offer cutting-edge technology to help reduce acute and chronic pain. Alleviating your suffering is our first concern. Secondly, we want to get you back to the activities you love in the shortest possible time. A primary physician may simply tell you to "take it easy" or "stay off your feet," as a precautionary measure. A sports medicine podiatrist, on the other hand, will actively work with you through the everyday challenges to help you fully recover with maximum range of motion and healing. Mix5 MLS laser therapy and the PinPointe Footlaser are a few of the tools we use to improve patients' lives each day. Contact us today to set up an appointment.
If you have any foot problems or pain, contact The Center for Podiatric Care and Sports Medicine. Dr. Josef J. Geldwert, Dr. Katherine Lai, Dr. Ryan Minara and Dr. Mariola Rivera have helped thousands of people get back on their feet. Unfortunately, we cannot give diagnoses or treatment advice online. Please make an appointment to see us if you live in the NY metropolitan area or seek out a podiatrist in your area.