The Rise of the "Foot Selfie": Who Started This Social Media Trend and Why Is It Popular?
Posted by Jenn F. on Thursday, June 12th, 2014
The term "selfie" is, quite possibly, the most overused media buzzword of 2013 and beyond. Yet, it represents a very real sentiment in this digital age. There is a desire within nearly all people to be recognized and accepted by others. But first, we must accept ourselves — imperfections and all. So it's not surprising that the latest craze on social media sites, like Twitter and Instagram, is the "foot selfie." As New York podiatrists, we've noticed that people are caring more and more about having feet that look good enough to post on social media sites.
Celebrities Fuel the Rise of the Foot Selfie
Perhaps it began with Danny DeVito and his infamous "troll foot" posts, starting back in 2010. When taken collectively, the actor's foot reveals a lot about what he's been up to — ball games, pumpkin carvings, sandy beaches, filming on the set of It's Always Sunny In Philadelphia, reading a story about Twinkies in the paper, attending political rallies, and more. It's really quite interesting! Ugly or not, DeVito has accepted his feet and captivates audiences with it. He told Anderson Cooper that the trend stemmed from his desire to maintain some air of privacy, which he admits, "lasted a second." Now the infamous foot selfies are "all about comfort," he says.
Danny DeVito isn't the only celebrity freely busting out his feet. Supermodel Heidi Klum often takes photos of her pampered feet while traveling. Beyonce has been known to snap photos of her husband Jay-Z's feet while living the good life aboard speedboats and alongside tropical pools. Glee star Lea Michele took a photo of her feet while visiting an oceanside resort in Mexico. Jessica Alba has a similar foot selfie near tranquil waters and palm trees. See if you can guess the celebrity foot selfie here.
Kicking up one's feet is synonymous with relaxing and living the good life, so it's no surprise the stars have been capturing photos of their feet. "Selfies say, 'I am here. I am present in this beautiful location or moment. How lucky I am to touch my feet on this hallowed ground,' " Gina Tolleson, executive editor at Santa Barbara Magazine and Miss World 1991, explained to Hollywood Reporter. 
Other Reasons to Tweet Your Feet
Showing off a glamorous lifestyle isn't the only reason a person tweets their feet, as we found out the hard way! Running a Twitter search for #footselfie today brought up a hideous bloody foot, with skeletal bones exposed, designed to shock and terrify audiences obviously! This particular foot was extreme, but surely people can snap a foot selfie to let others know they have suffered an injury or are heading in for foot surgery.
Like we mentioned earlier, tweeting one's feet can be a way to show that you are comfortable with your body. Maybe you feel your feet are one of your best attributes. Or perhaps you choose to bare your bunions to show that you're a down-to-earth person.
Feet can showcase a lot of personality, depending on the shoes you are wearing or how the feet are adorned — be it nail-polished, tattooed, or bedazzled with jewelry. People post foot photos to show off pedicures, foot tattoos, a trip to the beach, prosthetics, yoga poses, bunion surgery, high heels, or for a health awareness campaign.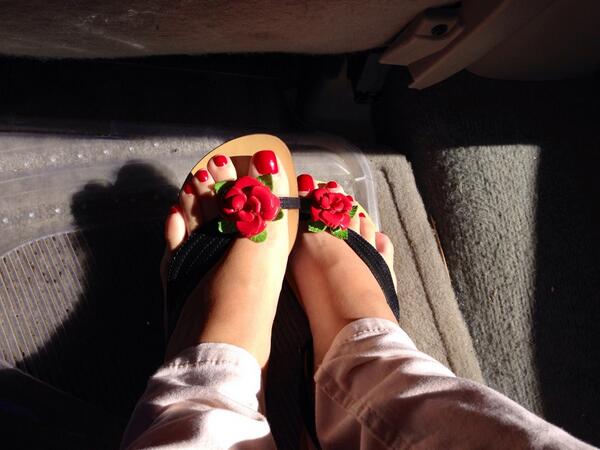 The #FootSelfie is also an easy way to show where you are or what you are doing. (After all, you don't want to turn your back on an angry elephant, as Kim Kardashian found out!)
Hey, New Yorkers! Want Your Feet to Look Good & Feel Good?
Our team here at The Center for Podiatric Care & Sports Medicine specializes in making people's foot pain disappear. Whether you're plagued by corns, bunions, plantar warts, ingrown toenails, foot fungus, or a natural deformity, we can help you improve your foot ailment. We do not perform cosmetic foot surgery for the sole sake of making your feet look more shapely or fit into those Jimmy Choos, but we do use the latest surgical techniques to ensure that scarring is minimal and your feet enjoy the most successful recovery possible. Contact our Westchester or Manhattan offices here.
If you have any foot problems or pain, contact The Center for Podiatric Care and Sports Medicine. Dr. Josef J. Geldwert, Dr. Katherine Lai, Dr. Ryan Minara and Dr. Mariola Rivera have helped thousands of people get back on their feet. Unfortunately, we cannot give diagnoses or treatment advice online. Please make an appointment to see us if you live in the NY metropolitan area or seek out a podiatrist in your area.