Diabetes Health: Why Keeping Your Feet Toasty, Cozy, And Healthy This Winter Is Important
Posted by Jenn F. on Monday, December 2nd, 2013
With winter in full swing, it's time to break out the warm, fuzzy socks and plush slippers. The chilly weather requires you to spend a little extra time on foot care, especially if you have diabetes. Common foot issues this time of year include: dry skin, wet feet, poor circulation and ill-fitting boots. The Center for Podiatric Care and Sports Medicine in NYC offers five tips for diabetic foot care during December, January and February.
Choose the right outdoor footwear
This time of year, we see a lot of twisted ankles, tendon injuries and Morton's neuromas. Many of these winter blues can be alleviated by choosing the right type of winter boot. Generally speaking, footwear is more restrictive, especially if you're layering up on socks. Buying laced boots will give you a little more flexibility to loosen up. A good winter shoe should be relatively flat, waterproof, leave enough room to fit two pairs of socks, and have gripping soles to prevent falls, according to Medical News Daily. 
Keep your feet warm this winter
Poor circulation can cause your feet to be chillier than most people's in the winter; so avoid the temptation to go barefoot indoors. Buy comfortable slippers to offer better support, protection and warmth. Slip on a pair of diabetic socks to keep your feet dry, cozy and free from fungus. Cotton is a common sock material because it's cheap to manufacture, but it's no good in the winter months, when socks are likely to become saturated with moisture — either through snow infiltration or sweat. Generally speaking, wool or polypropylene make better choices. The SteriShoe Blog also offers great recommendations for socks that will keep your feet dry and odor-free. Use a boot dryer or alternate boots every other day to avoid wet feet outdoors.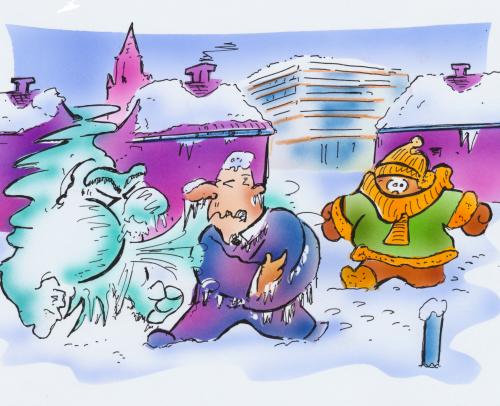 Avoid direct heat on your feet
Do not heat your feet directly near a radiator or fire. Overheating the feet is a major cause of chilblains, according to a UK newspaper. Chilblains occur when the skin is exposed to extreme temperature fluctuations, which causes blood vessels to constrict and blood to leak into the tissues, causing itchy redness. This condition can lead to ulcers or infections. Chilblains are often found on the high point of the toe, bunions, calluses, or high pressure zone of the foot. Be careful when using heating pads, electric blanket,s or hot foot soaks, as diabetic neuropathy prevents you from immediately feeling a burn. Ideally, you should slip into socks or slippers and go under a blanket to let the feet warm gradually.
Moisturize your diabetic feet
Dry weather can leave diabetic feet more susceptible to cracking, peeling and calluses. Sitting in the car with heat blasting on your feet can make dryness an issue too. After washing, apply lotion over the top and bottom of the foot — but not between the toes, which may actually increase your risk of developing foot fungus. Avon makes a new diabetic foot cream that a lot of people like, but there are many different options out there. Vaseline works well as a coating to protect the feet from blisters. Prescriptions aren't usually necessary, but we do write scripts for special medicated creams on occasion.
Remain vigilant about your feet in the winter
Don't just stick your feet into slippers or ski boots and forget about them this winter. Now is a great time to make an appointment with a podiatrist if you haven't already. Also, review your feet for blisters, cuts, discoloration, fungus symptoms or irritations that you may not immediately feel due to neuropathy.
If you have any foot problems or pain, contact The Center for Podiatric Care and Sports Medicine. Dr. Josef J. Geldwert, Dr. Katherine Lai, Dr. Ryan Minara and Dr. Mariola Rivera have helped thousands of people get back on their feet. Unfortunately, we cannot give diagnoses or treatment advice online. Please make an appointment to see us if you live in the NY metropolitan area or seek out a podiatrist in your area.